Optimize LinkedIn for Career Growth: Part IV
Today I am talking about a perfect LinkedIn summary for a college grad.
Welcome to One Up Your Career – the daily info-vitamin capsule ?? by Unnati to help you growth hack your career.
To read this issue online and leave your comments, click here.
Hey Millenial,
Let us begin from where we left off yesterday – writing a perfect LinkedIn summary. In the previous newsletter, I discussed the fragments of the story that you share in the summary section, especially for professionals. This one is for you. If you pursuing a college degree or are fresh out of college then my suggestion to you is – make LinkedIn your go-to social media platform. Invest time because in the long run you are bound to get returns.
And I completely understand if you do not know where to begin and how to go about making a good profile. LinkedIn is not the same as other social media where you can just be yourself and write fleeting thoughts as and when they pop-up in your mind.
The Revelation
For writing this article I skimmed through at least 30 profiles of students and was shocked to see that 18 out of 20 had no summary and the remaining two did not have the professional approach ('I am a foodie' is not adding any value to an MBA finance graduate).
So, let me begin by specifying what a summary should Not look like:
A Blank Space
Leaving the summary space blank is a cardinal sin. The summary section is the first piece of text people will read about you. Do not allow them to draw a blank. LinkedIn is your digital resume that is active even while you are asleep and you do not begin the resume with a blank.
P.S – This is just an example. If you leave the summary section blank then it won't show in your profile.
One liner Summary
The summary section should tell a story. So, what does a one-liner statement tells about you? Writing one line might show your lack of interest or your inadequacy in using LinkedIn. A one-line summary is actually as good as no summary.
Write an Appealing Summary
Let us consider the examples that I have picked from this blog to discuss the learnings.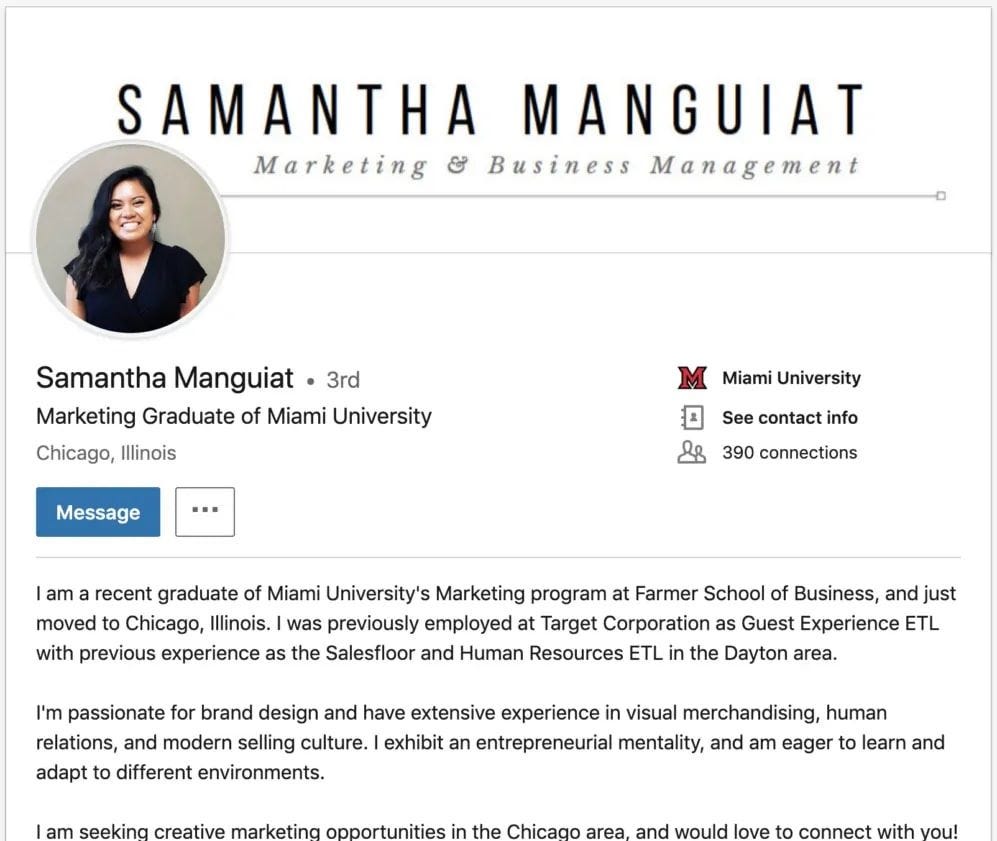 First Person
Note how the summary is written in the first person. It is you talking to the viewer. Pointing out this minor detail was important because even some experienced ones choose to write in the third person which does not sound authentic at all.
Trim the fat
LinkedIn has a dedicated section for skills and accomplishments. You can list your awards, patents, project, etc there. So, do not add such data in the summary. Talk about you as a person. You can even choose to tell your background story if it adds value. Give insight into your culture or community if your field of work resonates with it.
Do not cut corners
While you are doing away with unnecessary information please do not cut corners on the summary statement. Write about what motivates you or why you choose to take up that particular course. Define your unique attributes and use keywords that recruiters search for.
The beginning, middle and the CTA
Similar to the summary statement of a professional, your statement should be constructed in the same format. You first introduce yourself, appeal to your customers (recruiters and hiring managers in your case) and give a call to action; provide contact details to reach you.
Implement the change today and you will see a difference by the connection requests you receive.
Watch out for tomorrow's edition of the newsletter. I will share my LinkedIn journey of reaching the maximum of the network size limit.
Do you have any questions related to job search or career enhancement? Ask us here.
Loved ?? this newsletter? Hit reply and share your feelings with us.
Tell your friends about it on WhatsApp. Spread the word to 10 people and your dream will come true, provided your dream is to read more of this newsletter ??.
http://companies.naukri.com/myunnati2-dev/wp-content/uploads/sites/29899/2019/07/unnati_Blue-300x99.png
0
0
akshay
http://companies.naukri.com/myunnati2-dev/wp-content/uploads/sites/29899/2019/07/unnati_Blue-300x99.png
akshay
2020-08-12 21:40:36
2020-08-12 21:40:36
Optimize LinkedIn for Career Growth: Part IV